Last Sunday I was accused of stealing and called a "lying son of a bitch" by an employee at a golf course.
It was a shocking experience.
Before pushing off for a relaxing round, I was hitting some balls on the practice range.
I had about 7 range balls left in my bucket and I wanted to go do some chipping.
So I walked back to my cart with the range balls to grab a different club.
John, the employee in question, rushed over to me and said, "I can't let you take those range balls."
A bit taken aback I replied, "I know. I'm going to chip over there."
John says, "That's the 18th green."
I looked at him blankly.
"Uh, not there. On the chipping green."
He said, "Oh, okay. Go ahead."
It was a strange interaction but I shook it off and made my way to the chipping green.
Then my friend comes over and says, "That guy just called you a 'lying son of a bitch' and said, 'I know he's trying to steal those balls' in front of about 15 other golfers using the range."
Thankfully my buddy immediately called John out and told him I wasn't trying to steal the balls.
(FYI: range balls are terrible balls that you'd never want to use for anything other than practice. I'd estimate their combined value to be under $2.)
I was rattled and pissed off by the accusation…
By the time I returned to the range John had snuck away and seemed to be hiding himself after getting called out by my friend.
In year's past, I would have freaked out and let this guy completely ruin my day.
I'd have complained to the GM and requested compensation of some form. I'd have spent hours scouring reviews looking for confirmation that the course employees were assholes. I'd have signed up for a Yelp account just to leave a bad review and shit on the staff.
And you know what, I'd be justified in doing all those things.
But here's the thing…
When you make the leap from full-time employee to business owner or freelancer… your time is suddenly freed.
You really can spend your hours doing what you please.
Which is good and bad.
I could probably spend a few hours and get John fired (which he honestly should be).
But instead I'm going to spend a few hours reflecting on the experience and writing about it.
I'm going to identify why his words triggered me so much.
I know I wasn't going to steal the golf balls. What do I care if John tried to embarrass me in front of ~15 other people I'll never meet again? What do I care about what John thinks at all?
So that's where I'll spend my time.
Reflection.
And then that time will be worth a heck of lot more than a free round of golf or even a little bit of revenge.
Anyway, join the CopyHour Facebook group and watch some videos on copy. That's a good use of time. 🙂 Also, signup for a free 5-part copywriting training course.
Good Ad
Tecovas has spent ~$221K in the last 44 days on ads like this via the Taboola content network.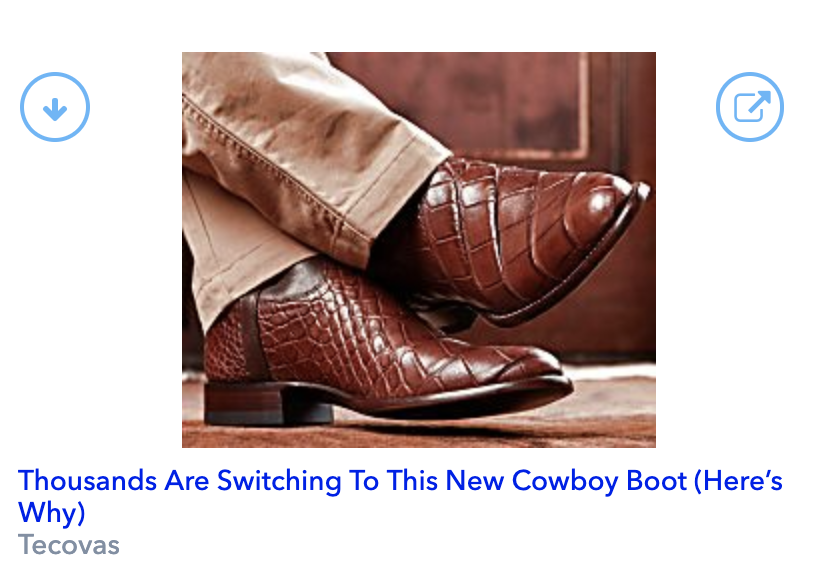 If you've been a reader for awhile I'm sure this looks familiar.
This campaign is practically a carbon of a Mack Weldon campaign. Here's the landing page.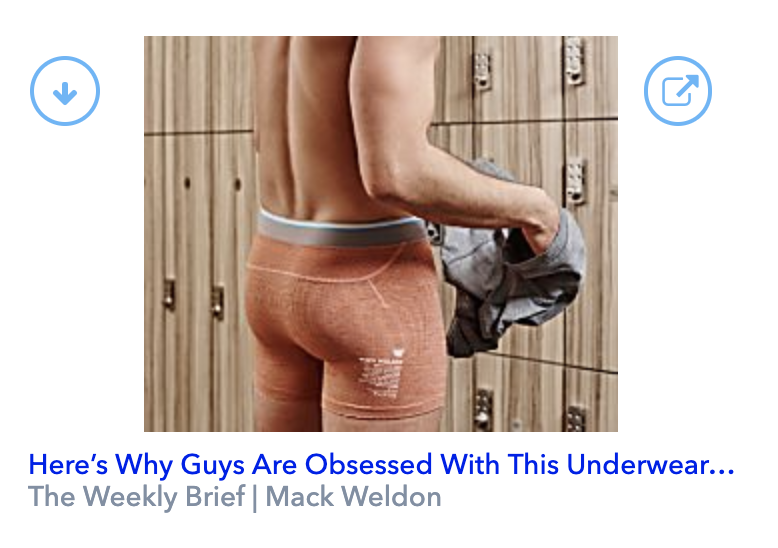 This is a concept I've discussed when it comes to finding "big ideas" for ad campaigns.
The big idea here is, "Lots of people are switching to this new/innovative product, here's why…"
Why does this idea work?
1. Social proof. "Thousands are switching…".
Social proof is a powerful form of proof. And it makes people pay attention. Even though the social proof here is WEAK – it's unspecific and unsubstantiated – it still works because social proof is that powerful.
2. "New". New is often touted as the most powerful word in marketing. That's probably true. New is news. It's different. Different is interesting and grabs attention.
3. "Here's why". This sentence provides a hint that the other side of the click will be "content" not just an ecommerce sales page. Taboola is a content network. Your ads and campaigns should match the medium.
I use Adbeat to find ads and do competitive research.
Product, App, Book or Website I'm Loving:
[BOOK] The Mom Test: How to talk to customers & learn if your business is a good idea when everyone is lying to you
I'm in the process of developing a few new products and this book has been invaluable.
"This book shows you how customer conversations go wrong and how you can do better."
How to Make Great Tasting Coffee
1. Get yourself a good bag of beans with a roast date on it. General advice that's not a rule: coffee typically tastes better if consumed within 5-10 days of its roast date.
2. Buy a grinder and grind the beans yourself right before you brew a cup. It only takes a few seconds.
3. Brew your coffee with a Chemex* or Aeropress*. Kuerig's suck at making coffee and they suck for the environment.
4. Water matters: You're not gunna believe me until you try it – good filtered water will make your coffee taste better (and it might save your life). I use Ian Stanley's old company: Fixt filtered water pitchers.
5. Temperature matters too. I brew most cups at ~183 degrees. I use Ovalware's Pour Over Kettle*.
(*Some links on this page are affiliate links. If you purchase anything I will make a small affiliate commission. These commissions are definitely not large enough to factor into my decision to recommend them. I only promote things I use and believe in.)