I like to give my wife advice.
And she loves getting my advice.
Just f-ing kidding.
She hates it.
This past weekend, a man who's name you might recognize from the CopyHour world… Rob Hanly, came to visit us here in San Diego.
Over some delicious Rob-made margaritas (pictured above) we got to talking about business.
Rob and my wife discussed some of the challenges she's facing with her business.
And because Rob does it for a living, he gave her some solid insight and advice.
I sat back, a smug look upon my face (or maybe it was the tequila).
"Does any of this sound familiar?" I thought.
My wife knew what I was thinking.
She said, "I know you've told me some of this before. I just need to hear it from someone else sometimes."
And there you have it: a sales and marketing lesson.
Word of mouth is the most powerful sales channel.
Testimonials and reviews are the second most powerful.
Not giving you advice or anything, but Rob said you should join the CopyHour Facebook group. He also said you should, signup for a free 5-part copywriting training course.
Okay Ad
LeafFilterGuards.com has spent an estimated $157.2K in the last 230 days running ads like this via the Taboola content network.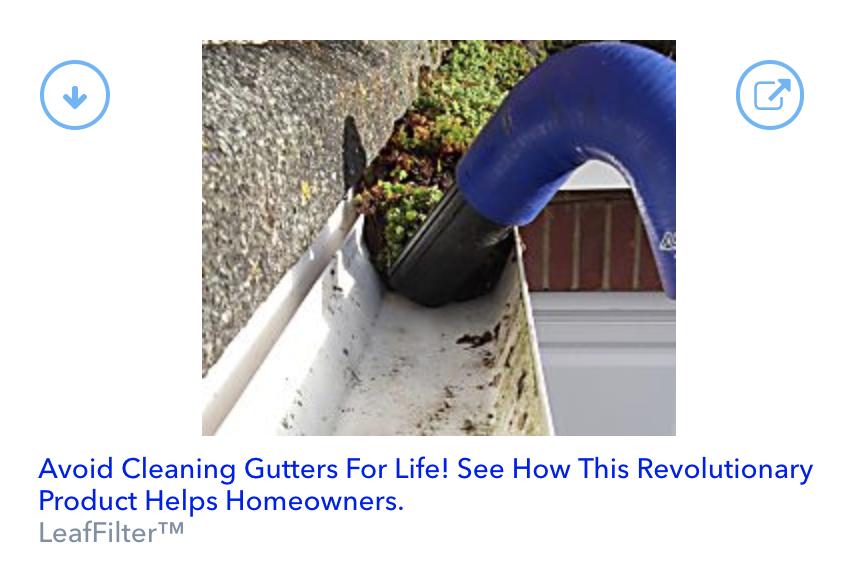 I think this ad could be better. Let's take a look.
First, this ad is being shown on the content networks. It looks and reads like an ad. Best practices are to have your ad look, read, and feel like content. Like a news report or blog post, etc.
I'd start testing against this by getting rid of the "!" and the word "Revolutionary".
We have a Promise-type headline: "Avoid Cleaning Gutters For Life".
I'd make the next sentence read, "See How This New Invention Helps Homeowners".
I'd also try to find a photo that's a little more "weird" to build curiosity.
I use Adbeat to find ads and do competitive research.
Product, App, or Website I'm Loving:
[YouTube Video] How to Get High-Paying Copywriting Clients with Ian Stanley and John McIntyre
– This is a content video.
– Ian & John are both CopyHour success stories!
– You'll get to see Ian basically mentoring John through pitching a client. They talk about strategy and structuring the deal (including exact dollar amounts).
If you're interested in buying a course on writing email copy, Ian's is the best I've found. And it's inexpensive. 8020 Email Copy Crash Course
If you have an email list (or want to write emails for a client with a list), then check out Ian's "Email of the Month Club". He sends you 5 tested & proven email templates per month. The sales page is hilarious and awesome. Read more here.
How to Make Great Tasting Coffee
1. Get yourself a good bag of beans with a roast date on it. General advice that's not a rule: coffee typically tastes better if consumed within 5-10 days of its roast date.
2. Buy a grinder and grind the beans yourself right before you brew a cup. It only takes a few seconds.
3. Brew your coffee with a Chemex* or Aeropress*. Kuerig's suck at making coffee and they suck for the environment.
4. Water matters: You're not gunna believe me until you try it – good filtered water will make your coffee taste better (and it might save your life). I use Ian Stanley's old company: Fixt filtered water pitchers.
5. Temperature matters too. I brew most cups at ~183 degrees. I use Ovalware's Pour Over Kettle*.
(*Some links on this page are affiliate links. If you purchase anything I will make a small affiliate commission. These commissions are definitely not large enough to factor into my decision to recommend them. I only promote things I use and believe in.)